Have you ever been in Lagomarsino?
We are trying to restore a house in Lagomarsino of Lumarzo, in Valfontanabuona - Genova - Italy, in which it is possible to accommodate till 15/20 persons for more or less long periods. The house is divided in two parts: one is an independent small apartment, and the other is a space for activity for groups. The house, that it is 100 meters (300 feets) apart from the asphalt road along a comfortable path, is reachable in approximately 45 min by bus of Tigullio Trasporti direct line (Genoa-Chiavari Via Gattorna-Ferriere) from Genoa P.za della Vittoria (or 30/40 min by car). Not so far away from the house there is a river with small lakes, some meadow terraces, a little church near a meadow and a square. From the outskirtses they starts some paths for walks of various difficulty and destination.
We have passed the last years to tile, make walls, to make electrical networks and so on, since we have not so much money, and we would like to have an aid in order to try to make totally working the house as soon as possible. If you know of someone (single or group) that it would give us a hand in this very big and a little mad work please let us know so as we can contact him. We do not only need experts but also inexpert volunteers to which we will explain how to do things. At the present moment it is possible to accommodate for sleeping in the house and for eating but not yet for camping. To who it will come to give a hand to us, also only for some hour, we can assure (beyond to food and the lodging) a citation in the gold book of the house in which will be cited all the meritorious that have collaborated to reconstruct it. This house will be able to accommodate comfortably a great number of persons for several activities (lives school, specialization camps, weekends, encounters, parties etc.). As many more persons will give a hand to us as much quickly it will be totally working.
In order to reserve the house and to have more information on the possibilities offered from the house and the instructions for the use click here
In order to make a virtual visit of the house, the rooms and the external spaces click here.
For the timetable of the buses of the Tigullio Trasporti direct line click here
In order to contact us go to our Home Page
Here is how to arrive to the house of Lagomarsino.
Find the house on Googlemap.
Find the parking on Via Michelin.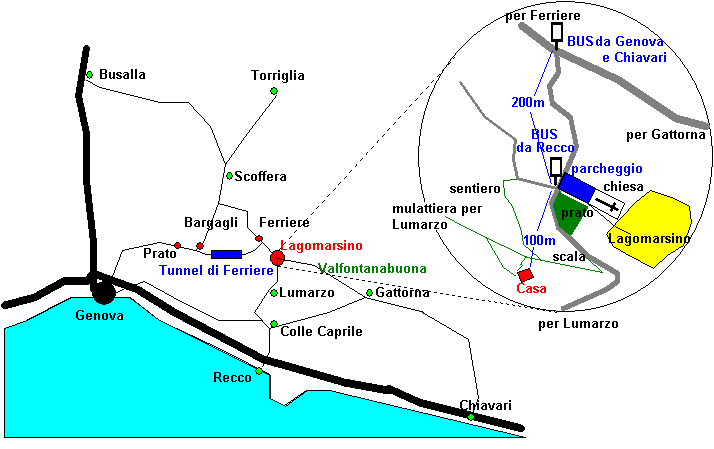 Last update: